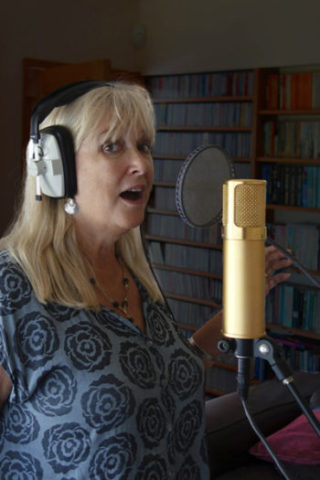 From dancer to singer, from choreographer to songwriter. Jo has worn a variety of creative hats during a forty-year career.
Starting as a stage dancer, she segued to belly dance, travelling the world covered in sequins. Camp? Yes of course! She has performed all over Europe, and also in the USA and Middle East.
Creator of theatrical shows and events, and expert MC, Jo is most a home communicating with her audience, singing and telling tall tales. Her events used to employ hundreds of people, but recently she has just been wrangling a crew of musicians, so life has definitely improved!
Jo's songs have attracted attention on the London and Bristol jazz scenes. She has recorded a studio album of original songs called 'Be My Devotee' at Fieldgate Studios. Her songs have a European feel and include humorous characters. Styles covered are swing, Latin, chanson and more.
Jo has sung at many jazz and cabaret venues, including The Vortex, Crazy Coqs, Spice Jazz, Great Northern Tavern, Ryan's Bar with the Gabriel Keen Trio, and the Elixir Bar in London, plus The Canteen, Bristol Fringe and the Old Duke in Bristol. She has also sung around the UK including gigs with the Laurie Morgans Trio at the Lancaster Jazz festival and Wighams Wine Bar in Edinburgh.
Jo has shared a stage with Pete Billington, Gabriel Keen, Bob Stuckey, Andy Hamill, Dudley Phillips and many more. She has also worked with music from many countries and cultures, and is still creating East/West fusion choreography for her dance company. She has choreographed works for theatre and opera companies, and teaches movement, performance and stage presence for singers.
---