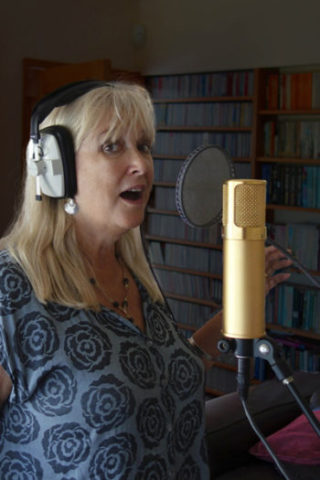 Jo Wise has had a chequered past, wearing a variety of performance hats. Originally a stage dancer, she segued into the world of Belly Dance and performed around the world covered in sequins. Maybe this explains her attraction to all things camp and theatrical. Having developed the symptoms of EDS – a mobility disability – she decided to stay onstage singing instead of dancing.
Having also been a choreographer for all her working life, creating her own stage show came quite naturally, and she also 'accidentally' started writing songs. This was as much a surprise to her as to everyone else, although a hint at her ability with words was always there in her publicity.
As an events and festival organiser, Jo became an expert MC, which means her rapport with the audience is second to none. It's not quite standup, but is a lot more than simply naming the next song. Jo's events also used to employ hundreds of people, but she now just has to wrangle a crew of musicians, so life has definitely improved on that front!
Jo has performed all over Europe, plus parts of the USA and Middle East. Countries include
Germany, Italy, Norway, France, Belgium, Denmark, Egypt, Israel, California and more.
As you can see, Jo is a sassy woman who has been around the block. Her songs reflect this, with a very human and humorous take on life and relationships. She likes to write about the
emotions we don't always own up to, and she spices up the evening with a variety of wacky characters and a little gentle audience participation.
What's not to like?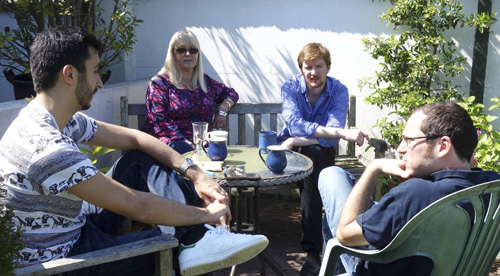 Jo's songs have attracted attention on the London jazz scene, and having moved to Bristol Jo is starting to make waves there too. Recently she has been recording at Fieldgate recording studio in Penarth, and the result is her new album Be My Devotee.
Jo has sung at many jazz and cabaret venues, including The Vortex, Crazy Coqs, Spice Jazz, Gt' Northern Railway Tavern, Ryan's Bar and the Elixir Bar in London, and The Canteen, The Bristol Fringe and The Old Duke in Bristol, and Wighams Wine Cellar in Edinburgh. She has also sung around the UK including with Laurie Morgans Trio at the Lancaster Jazz Festival. She has shared a stage with Gabriel Keen and his trio, Pete Billington, Bob Stuckey, Andy Hamill, Dudley Philips and many more.
Jo has worked with musicians from many different countries. Her work as a choreographer is ongoing, and she is known for her east/west fusion and work with middle-eastern music. She has also worked with theatre and opera companies, using choreography, dance and movement with singers.

"Great voice, and she can swing!" Carol Grimes
"A very creative songwriter" Steve, London
"Jo's velvety voice draws you in and is like a warm hug" Margaret, Surrey
"She has a way with a jazz standard, subtle and authentic" Jeff, Lancaster
"Great phrasing…" Pete, Norwich
---