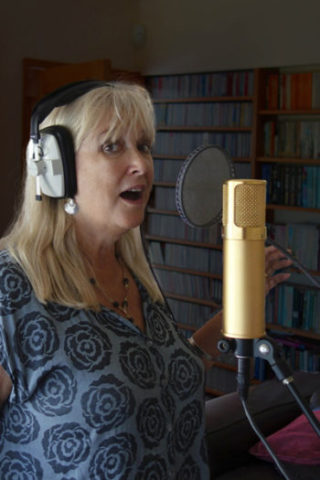 Jo Wise has worked with music all her life. Her rich voice draws you in to the pictures she paints with word and sound, and her lively humour keeps you on your toes. Her warmth of tone
creates an emotional depth and an immediate rapport with her audience.
Jo's songs reflect the influences of the music and rhythms of the countries of her mixed work and life. Her lyrics speak of the huge range of human experience and interaction, with a
refreshing honesty about the emotions we all share.
Her songs have attracted attention on the London jazz scene, and having moved to Bristol Jo is starting to make waves there too. Recently she has been recording at Fieldgate recording
studio in Penarth, and the result is her new album Be My Devotee. Check out her new band.
Jo has sung at many jazz and cabaret venues, including The Vortex, Crazy Coqs, Spice Jazz, Gt' Northern Railway Tavern, Ryan's Bar and the Elixir Bar in London, and The Canteen, The Bristol Fringe and The Old Duke in Bristol, and Wighams Wine Cellar in Edinburgh. She has also sung around the UK including with Laurie Morgans Trio at the Lancaster Jazz Festival. She has shared a stage with Gabriel Keen and his trio, Pete Billington, Bob Stuckey, Andy Hamill, Dudley Philips and many more.
Born in London, and now living in Bristol, Jo has worked all over the UK, Europe and beyond. She was a professional dancer for many years, working with musicians from many different countries. Her work as a choreographer is ongoing, and she is known for her east/west fusion and work with middle-eastern music. She has also worked with theatre and opera companies, using choreography, dance and movement with singers. She runs a dance school in London, and is a qualified teacher of the Alexander Technique.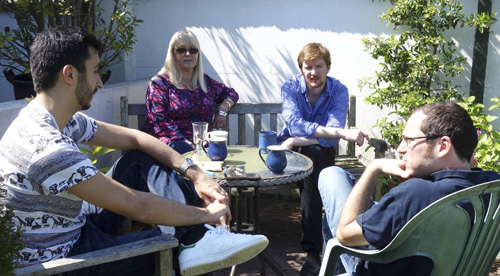 "Great voice, and she can swing!" Carol Grimes
"A very creative songwriter" Steve, London
"Jo's velvety voice draws you in and is like a warm hug" Margaret, Surrey
"She has a way with a jazz standard, subtle and authentic" Jeff, Lancaster
"Great phrasing…" Pete, Norwich
---